I was cleaning out my kitchen cupboard a couple of days ago when I came across 3 boxes of Weetbix and thought that I had to use them up! Usually, I put chickpeas or oat flour into my snacks to increase the number of complex carbs and to reduce the amount of dates use (usually protein snacks at shops are high in dates and thus, they taste like dates). But seeing as I had somehow unknowingly accumulated a ridiculous amount of Weetbix, I thought I would try using the Weetbix.
Once again, I went for the no-bake option because ain't nobody got time to wait for the oven to cook things (plus, no-bake means that the texture and taste doesn't change too much compared to cooking things where baked goods usually half in sweetness when cooked). Surprisingly, these came out super gooey and chewy and took less than 30min to make!
Chewy Choc PB Swirl Brownie is made with bRaw Ultimate Plant Protein.
Ultimate Plant Protein is crafted with certified organic plant proteins, a blend of ancient grains, superfoods and fortified with digestive enzymes and amino acids to nourish the body. Ultimate Plant Protein provides a complete healthy nutritional solution. It's dairy and gluten-free, as well as vegan-friendly.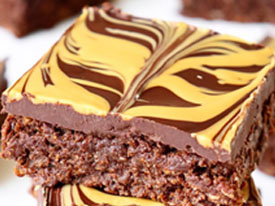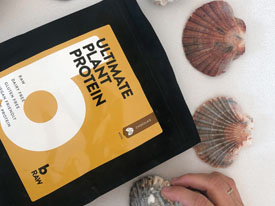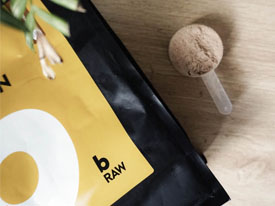 Step 1
Blend dates, rice malt syrup, peanut butter, date water and coconut cream until smooth.
Step 2
Add remaining ingredients and mix until well combined.
Step 3
Press dough into a lined baking tin and freeze whilst making the topping.
Step 4
Melt chocolate and coconut oil in one bowl in the microwave for 30s intervals.
Step 5
In a separate bowl, microwave peanut butter for 30 seconds.
Step 6
Pour chocolate over the brownie base and then drizzle melted peanut butter on top.